The Many Benefits of Lavender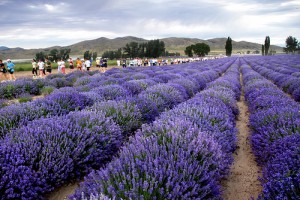 Utah's I-15 freeway runs parallel to the Young Living lavender fields. So many people simply pull to the side of the freeway and gaze in amazement at the purple beauty stretching across 200 acres.
Lavender harvest time in Mona, Utah, and St. Maries, Idaho, is the perfect time to reflect on all that this fragrant flower gives us.
A 2009 study at the Department of Biosciences of Saurashtra University in Rajkot, India, tested essential oils from palmarosa, evening primrose, ruberose and lavender. The scientists noted that "gram positive bacteria are more susceptible to essential oils than gram negative bacteria." But lavender and palmarosa oils had a potent effect on gram negative organisms at all concentrations tested.1
Lavender has so many more applications than that! I was told that the August issue of O: The Oprah Magazine has a nice recipe for fighting the stress that surrounds our busy lives:
"Take a whiff of lavender. In 2008 Japanese researchers reported that the aroma reduces stress levels in people forced to do tough math problems. Keep a small bottle of lavender oil or lotion in your purse for when you're feeling overwhelmed."2
Like frankincense, lavender has properties that adapt to your body's needs. This is one essential oil you should always have on hand!
1. MH Lodhia, et al., "Antibacterial Activity of Essential Oils from Palmarosa, Evening Primrose, Lavender and Tuberose," Indian J. Pharm Sci. 2009 Mar-Apr; 71(2):134-136.
2. "Find Your Best Stress Zone," O: The Oprah Magazine, August 2010, p. 138.
Feel free to share! If you copy and paste whole posts to your member blog, please attribute and link back to the original post on dgaryyoung.com.