Legacy Gary Member Stories – Convention 2015
Since Gary Young's passing, we have put a lot of thought into how to continue the D. Gary Young blog. We wanted to foster a stalwart commitment to Gary's legacy, so we asked members to think of a fond memory of their time working with him on projects, on travels, at one of the farms, or in another setting to share those memories with you.
Here is another memory from Pamela H.: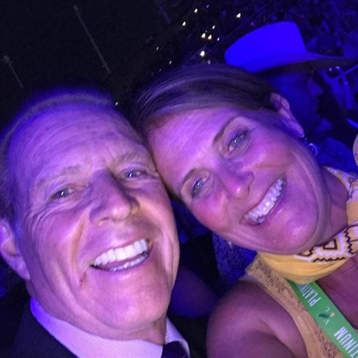 This is my most recent pic with my mentor and friend, Gary Young. We were having some fun in the blue lights last year at convention; he said, "Pamela, we've been smurfed! Lol."
This was Convention 2017, but I first met Gary at Convention 2005. It was then that I walked to the front of the convention hall to "feel" Gary's energy. I walked to the front where he was standing and watched the stage. I got in front of him and held out my hands. He laid his hands on mine and said, "Hello. What are we doing?"
I replied: "I need to feel you and see if you're real" as I smiled into his eyes.
He chuckled with his huge grin and said, "I assure you I am real. Do you feel it?"
There is more, but from that moment on he became my teacher, inspiring me to be a better person and eventually a leader living his same vision. He educated me, protected me, supported me through challenge and success. He made me laugh, cry, stretch myself, and most of all showed me how to inspire others! I am grateful and blessed to have had very special moments with Gary. His love is pure, strong, and always with us.
Thank you, Mary, Jacob, and Josef, for sharing him with us.
Feel free to share! If you copy and paste whole posts to your member blog, please attribute and link back to the original post on dgaryyoung.com.