Legacy Gary Member Stories – An Accidental Silver
Since Gary Young's passing, we have put a lot of thought into how to continue the D. Gary Young blog. We wanted to foster a stalwart commitment to Gary's legacy, so we asked members to think of a fond memory of their time working with him on projects, on travels, at one of the farms, or in another setting to share those memories with you.
Here is a wonderful and touching memory from Melissa M:
When I was first in YL, I was a huge skeptic of Gary, his story, and a lot of the things I was hearing from others. The oils sold me, hooked me, changed my life. I didn't understand the compensation plan. I didn't have anyone to support or lead me, but I loved the oils. I was still using other supplements, other products that I had been using for over 20 years.
Then I accidently made the rank of Silver and won a retreat. I wasn't going to go. I was a single mom with three little girls and was still struggling with anger over an unwanted and hurtful divorce, but I felt nudged by the Holy Spirit to go.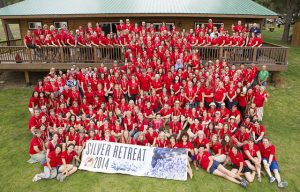 I took my kids from Florida to Texas to stay with my parents and got on a plane to attend Silver Retreat 2014 in St. Maries, Idaho. This is where I met and heard Gary, saw the personal side of him and Mary, and met other leaders who had been doing this for a while.
God used Gary to teach me to dream and believe in what was possible. I sat in a room with about 300 other people and listened as Gary started talking about his dream and acquiring the Northern Lights Farm and what he was going to do with it. He spoke of God leading him and showing him things. He talked about his relationship with the God I knew. He talked about integrity and the betrayal he had endured with his friends and employees. He talked about feelings of persecution and all the things he had dealt with. He talked about believing in the visions God gave him. Believing in what was possible. He shared how he couldn't quit, wouldn't quit, and about the legacy he wanted to leave for generations to come, for us, for the world.
I had listened to Gary speak at convention and had listened to other things online, but I never believed it or him. I had endured such betrayal and so much loss in the previous few years and had lost everything. I was living in survival mode and was angry.
Then I saw his sincerity and genuine LOVE for God and others. This was not what I expected to hear from him. He taught me to believe, to learn how to dream. I am still a huge work in progress and have a long way to go.
My heart broke when Gary passed. It broke for Mary because I know how hard it is to be a single mom. My heart broke for his boys because I have watched my girls grow up without a daddy.
But then I rejoiced because of Gary's work and legacy, the amount of his life he poured into his family and the world. His dream. I believed that would live on with Mary and his boys. I also believed it would grow with all the people like me he inspired, encouraged, and taught to dream. He reminded me what God told me so long ago when I found myself abandoned with three little girls. Gary reminded me that I will also leave a legacy but that I need to choose what that will be. He taught me to believe and dream in the future.
Feel free to share! If you copy and paste whole posts to your member blog, please attribute and link back to the original post on dgaryyoung.com.