Legacy Gary Member Stories – Provence, France
Since Gary Young's passing, we have put a lot of thought into how to continue the D. Gary Young blog. We wanted to foster a stalwart commitment to Gary's legacy, so we asked members to think of a fond memory of their time working with him on projects, on travels, at one of the farms, or in another setting to share those memories with you.
Here are some more memories from Pamela H.: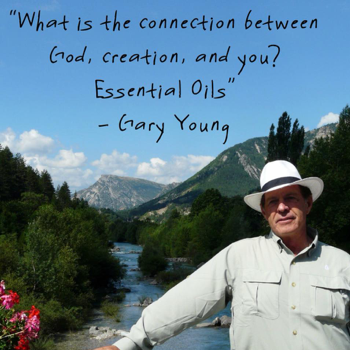 This is one of my favorite pictures taken of Gary Young during our trip to Provence, France, and the farm for the 20th anniversary of the Simiane-la-Rotonde Lavender Farm. It was so funny.
The buses were loaded outside the hotels in Nice, France, ready for a sightseeing day of the city. Gary heard the plan and said, "Nope. No city touring; we are heading up in the mountains. I will teach you and show you my trail to learning distillation as we go!"
We were all thrilled for the change in plans and anxious to be by Gary's side on this journey. He taught us the difference between lavender and lavandin. He showed us how Provence is now full of perfume oils, mostly, and how we saved the Lavandula angustifoliaby bringing it back to the States after a major virus took it down in these lands. Thank goodness he brought lavender to Idaho all those many years ago in his cowboy boots!
We saw the baby lavender in the fields and witnessed Gary's love for Jean-Noël and his family in France. 
Feel free to share! If you copy and paste whole posts to your member blog, please attribute and link back to the original post on dgaryyoung.com.