Young Living's Wintergreen Essential Oil
One thing I have prided myself and Young Living on is the total quality of the essential oils we provide. From the soil used, how the plants are harvested, the distillation process, to frequent intensive testing for impurities; Young Living's legacy is built on the trust and quality of our products. That's why Young Living is, and has remained, the world leader in essential oils for all these years!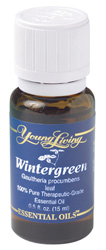 One amazing essential oil we have is wintergreen. We found the perfect nutrient-rich area to grow this oil in southern China. Our wintergreen supplier (and all other suppliers we use) must meet what we call the Young Living Therapeutic Grade (YLTG) standard. This standard means every essential oil Young Living distills or sources contain only the purest ingredients grown from the optimal soil. This ensures that the oil does what nature has intended it to do – heal and give comfort. It is a standard that exceeds what our competitors can only hope to reach.
We regularly go and meet with our suppliers so I asked two of our sourcing experts, Mary Lou Jacobsen and Sue Chao to personally visit our supplier's wintergreen fields. Their report was just as I expected; the fields, harvesting techniques, and distillation processes continued to meet and exceed our stringent requirements.
But folks, our quality guidelines don't end there. Once we receive a shipment of wintergreen essential oil, EACH batch undergoes testing in our labs to ensure nothing was diluted or changed synthetically. If any testing results come back below our guidelines, the batch is sent back to the supplier. Unfortunately for many unknowing consumers, these Young Living rejected batches are resold to other producers, that then turn around and sell these counterfeit "essential oils." It's unfortunate, but that's how many of our producers do business.
I want to reiterate a statement recently released about Young Living's wintergreen testing:
"As part of the lab tests, wintergreen is also subjected to isotopic ratio mass spectrometry (IRMS) analysis. Based on the carbon 13 and carbon 12 isotopic ratio, the IRMS can determine whether a particular lot of wintergreen is naturally sourced or synthetic (created in a lab). From 2001­­­ to 2009, every batch of wintergreen essential oil offered by Young Living has undergone this test. The results from this 8-year period show that our wintergreen essential oil ranges from -33.1 to -34.26, or well within the isotopic range for this essential oil. By contrast, the isotopic range for synthetic wintergreen is -26 to -28. Our personalized sourcing approach, combined with our state-of-the-art testing, ensures that each and every essential oil—from balsam fir to wintergreen—is of the highest, most potent therapeutic quality, just as nature intended."
It is vital to understand that wintergreen from Young Living and wintergreen from another producer is the same in name alone.
There are other producers in addition to Young Living and always will be. Some will be successful; some will come and go just as fast as they started. But one thing will remain – Young Living's total commitment to providing you with unprecedented quality in each and every essential oil we produce.
Essentialy Yours,
Gary Young
I invite you to read more about Young Living Therapeutic Grade (YLTG) essential oils.
Feel free to share! If you copy and paste whole posts to your member blog, please attribute and link back to the original post on dgaryyoung.com.