Essential 7: Peppermint Part 2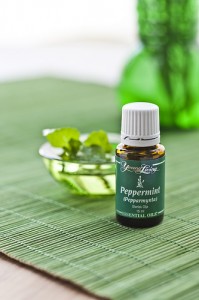 The Essential 7™ is a collection of seven of Young Living's premiere single oils and oil blends. YL's Doug Corrigan and Karen Boren are guest bloggers for a series sharing information that will teach you the many ways the E7 kit can enrich your life.
DOUG: You mentioned peppermint, Karen, how it impacts us topically—especially with its powerful phytochemical menthol.
KAREN: Peppermint is multifaceted. Anyone who gets to that certain age where joints start creaking a bit will find that that peppermint on the knees is just bliss! I love balsam fir for that as well but peppermint is really the one that has worked on my knees. I think this is a key point for people to know, that oils impact us all a little bit differently. We need to find the ones that work best for us, and like you, I've experimented and found out which ones are helpful for me and my body chemistry.
DOUG: But don't forget headaches! When I have a headache, I see a great response to the headache pain from lavender and peppermint. This is a really great yin and yang combination. If you're not sure where that headache is really originating from, try a little bit of both lavender and peppermint and, from what I've experienced with the problem, it will resolve itself.
KAREN: A North Carolina doctor read a German study where peppermint was applied for tension-type headaches. The randomized, placebo-controlled, double-blind study showed that just 10 percent peppermint oil applied locally was effective against the headache just like 1000 mg of acetaminophen. The doctor decided to try it the next time he had a headache. He bought a small bottle of peppermint oil in the baking section of his grocery store, applied it, and within 15 minutes his headache was gone. Imagine how therapeutic grade peppermint oil would have acted on that headache.
To be continued.
Feel free to share! If you copy and paste whole posts to your member blog, please attribute and link back to the original post on dgaryyoung.com.